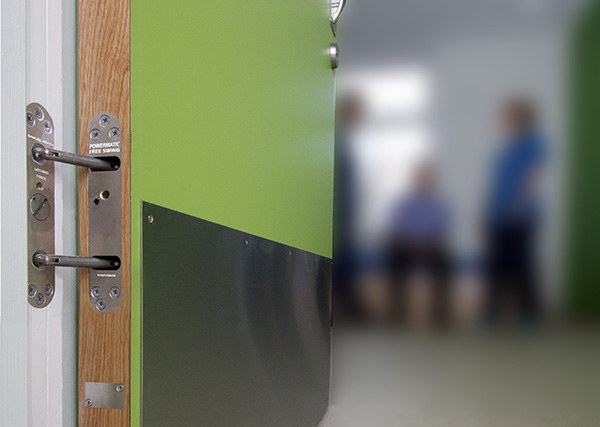 Powermatic controlled, concealed door closers have been used at new state-of-the-art psychiatric care facilities at Royal Edinburgh Hospital.
The £48 million Royal Edinburgh Building is part of a phased programme of redevelopment at the Royal Edinburgh Hospital campus being undertaken by NHS Lothian over coming years. The new facilities will provide accommodation for the adult acute mental health inpatient service, older people's mental health assessment, Intensive Psychiatric Care Service and the new Robert Fergusson national brain injury unit.
Powermatic door closers have been used on the main entrance doors to all 185 residential care rooms throughout the new building.
The door closers deliver a number of benefits for such projects thanks to their unique features and the fact that they are totally concealed when the door is closed.
Powermatic door closers are installed between the door and frame, making them invisible when the door is closed and particularly unobtrusive when the door is open. They can also be fitted within 300mm of the bottom of the door.
These factors not only make the door closers popular for use with continuous hinges in anti-ligature and anti-barricade systems, but also enable designers to create a more homely, less institutionalised ambience to the interior, free from the unsightly mechanical arms and control boxes that are an inescapable feature of surface mounted devices. The door closers are also less susceptible to damage through misuse, tampering or vandalism, which can compromise the performance of the door closer and door.
For psychiatric care facilities, these attributes assure a safer, more therapeutic environment, which is valued by clinicians, staff and patients.
Responding to a request from NHS Lothian, the door closers were recommended and supplied by specialist architectural ironmongers, DorSuite of East Kilbride.
Doors were routed to accept the door closers by CNC machines before delivery to site, where the door closers were installed towards the bottom of the doors by contractors, Morrison Construction.
Ross Robinson-Brown, Morrison Construction's contract manager for the Royal Edinburgh Building, comments. "Pre-delivery routing of the doors made on-site installation of Powermatic simple and efficient. With much of the facilities now in use, the door closers are performing well and the client is delighted with the outcome."