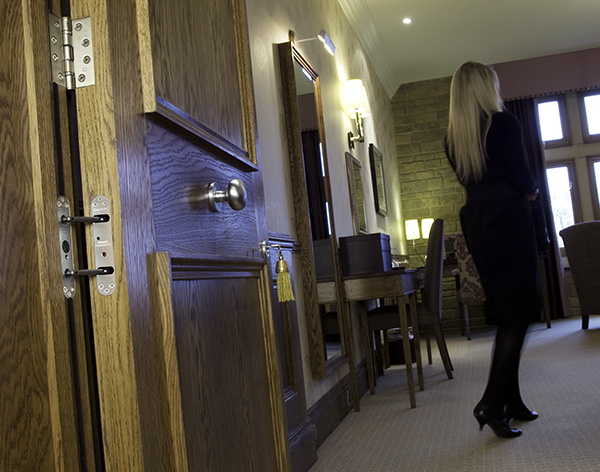 Concealed door closers for hotels
Few, if any, hotel and leisure complexes wish to exude an atmosphere that is as unwelcoming as an office or as sterile as an institution.
A great deal of effort is invested in ensuring that interiors are as comfortable, welcoming and homely as possible for guests. All this effort could come to nothing if doors are encumbered with the unsightly mechanical boxes and control arms which are an inescapable feature of surface mounted door closers.
From a practical perspective, where door clearance is restricted, such as with 90-degree reveals, these protruding arms and boxes can also make automatic closing difficult to achieve without restricting the door's ability to open to its full extent.
Powermatic® concealed door closers provide the ideal solution to these challenges. Tests have also proven them effective in maintaining the sound insulation properties of hotel doors.
Whether it is the desire to maintain a clean, unhindered appearance to the door and interior, the need to provide self-closing doors in restricted spaces or retain sound insulation properties of a door, the fact that Powermatic® door closers are totally concealed when the door is closed makes them a firm favourite amongst architects, interior designers and specifiers working on hotel and leisure projects:-
Significantly enhanced aesthetics
Exceptional performance and durability
Choice of popular finishes
Increased design freedom
Suitable for restricted spaces