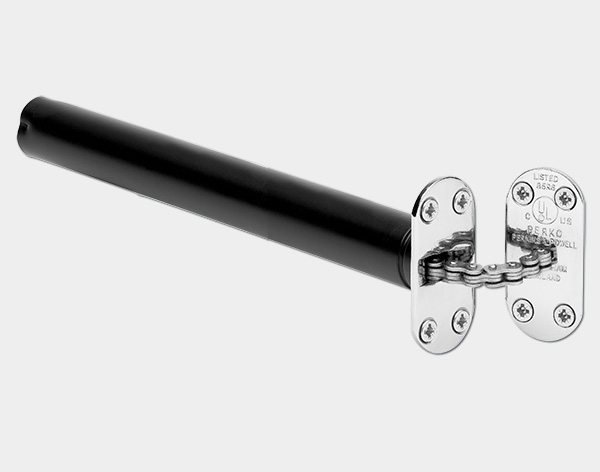 Perko concealed door closer – extended
This 'extended' version of our popular Perko concealed door closer is ideal for use in situations where a greater opening angle is required. It can also be used to overcome projecting architrave by using in conjunction with projecting and parliament hinges – please note that the maximum opening angle of the door closer will vary depending on the position of the closer and the geometry of the hinge. Therefore, a suitably positioned door stop will be required.
Perko is the original concealed door closer, offering an economic means of providing automatic closing.
Suitable for internal doors up to 50kg/110lbs in weight in light to medium use applications.
Solid brass round anchor plates, lacquered mechanism housing and precision-engineered chain add to its appeal. Supplied with fixing screws and full fitting instructions.
When selecting door closers, and other products, for use on fire doors you should apprise yourself of the relevant legislation, regulations and performance criteria applicable to the region of use. In the United Kingdom and Europe, products intended for use on fire doors must carry the CE mark. Where door closers are concerned, currently, this means that only controlled door closing devices can be used. CE marking of uncontrolled devices is not currently available as the necessary harmonised European standard has not been published.
This is an uncontrolled door closer. Therefore, it is not CE-marked.