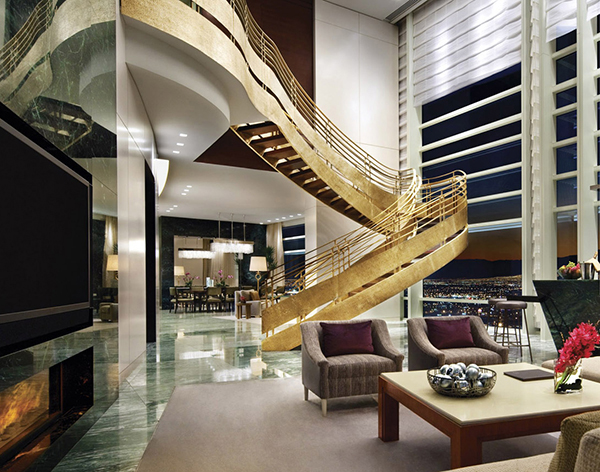 Powermatic controlled, concealed door closers have been used to ensure that interiors of guestrooms at one of the world's most impressive hotel developments retain the high-end appearance intended by their designers.
The award-winning ARIA Resort and Casino forms part of the $8.5 billion CityCenter in Las Vegas and represents the pinnacle of luxury hotels, not just by the exceptionally high standards of the city itself, but of the entire world.
Providing an impressive combination of hotel accommodation, spa, casino, meeting, dining and entertainment facilities, ARIA is receiving rave reviews from guests and admiration from professionals for the outstanding levels of detail and quality that have been achieved in its design and construction. In its debut year, ARIA received the coveted AAA Five Diamond award, a rare feat for a hotel to accomplish in its first year of operations.
Designed by architects, Pelli Clarke Pelli, ARIA consists of two 60-storey curvilinear glass towers which house some 4,004 rooms, including 568 suites, most exclusive of which are the Penthouse suites and Sky Villas.
It is in this prestigious accommodation that the Powermatic concealed door closers were employed to great effect.
With individual interiors created to reflect modern, high-end luxury, designers were keen to ensure that nothing spoiled the overall aesthetics and relaxing ambience of the villas and penthouses. This desire extended to the selection of the door closers.
As Rick Page of door supplier, Calply explains, "Floor closers would not work with the specified structural floor design and the externally fitted control boxes and arms of traditional surface-mounted door closers would have spoiled the appearance of the doors and interiors, presenting a functional, somewhat institutionalised atmosphere. This was, naturally, not what was desired in such exclusive suites.
"Powermatic was selected because it provides controlled door closing, meets the design requirements of a UL approved door closer and is totally concealed when the door is closed, assuring clean, unhindered appearance to the door and interiors in general.
"Installation was straightforward; we prepared the doors at our factory and fitted the door closers on site."
A total of 27 Powermatic concealed door closers were fitted to the Penthouse Suites and Sky Villas at ARIA.