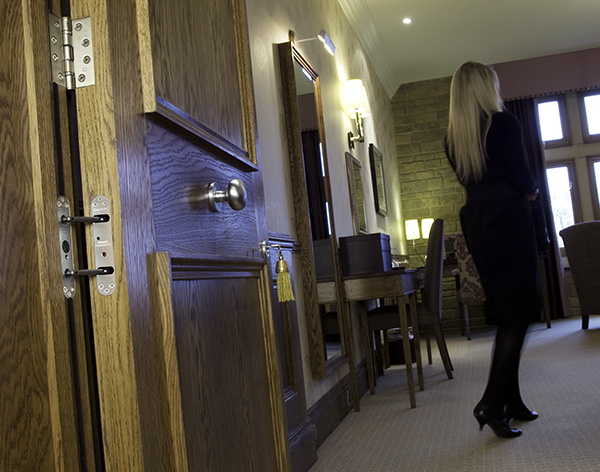 A major redevelopment project to expand facilities at an exclusive hotel in West Sussex has exploited the performance and aesthetic benefits attainable with the Powermatic® concealed door closer to full effect.
A former Victorian gentleman's residence, the 89-bedroom South Lodge Hotel is part of the family-owned Exclusive Hotels Group. It is situated in 93 acres of English countryside with grounds comprising native woodland, formal lawns, ponds, brooks and gardens.
The £7.5million redevelopment involved the construction of a new four-storey wing to the existing hotel, providing additional luxury accommodation.
In addition to lower ground conference, banqueting and meeting facilities, ground level guestrooms with terraces, and first floor rooms with balconies, the improvements also featured a number of guest suites on the second floor, including a sumptuous honeymoon suite with special bed and exclusive spa.
South Lodge Hotel boasts an impressive history, particularly with regard to its horticultural pedigree. It is from this heritage, and the area's natural beauty, that interior designer, Merilyn Cooper drew her inspiration for the interior décor of the new wing.
Cooper devised distinctive decorative schemes for each of the wing's four levels and stipulated Powermatic® concealed door closers to ensure her vision remained intact.
Rooms at lower ground floor level use the hotel's gardens for inspiration, whilst ground floor rooms draw on local landmarks. The first floor is themed with orchids and second floor rooms and suites with butterflies.
Throughout the entire development, Cooper needed to harmonise the hotel's history and traditions with a modern, spacious feel, in keeping with the hotel group's exclusive branding was paramount. Interior finishes combining granite staircases, solid timber doors and exposed brickwork with clean white-washed plaster and contemporary furnishings achieve this objective with aplomb.
Cooper, already experienced in creating interior schemes for some of the country's chicest establishments, explains, "This project proved especially challenging and enjoyable. It was essential to pay the utmost respect to the hotel's Victorian heritage, but at the same time provide the modern, contemporary feel that today's discerning guests demand.
"Naturally, maintaining the renowned, high-class image of Exclusive Hotels was a prime consideration and all materials had to deliver quality as well as value for my client.
"The last thing that either I, or the client, wanted was to spoil the appearance and ambience of the rooms by encumbering the doors with mechanical devices that would look so totally out of place.
"The Powermatic® concealed door closer offered the perfect solution; not only does it satisfy the performance and durability characteristics essential for the room and fire door applications, but it is also totally concealed when the door is closed, and particularly unobtrusive even when the door is momentarily opened. This enabled me to create a seamless appearance to the doors and assure a similarly clean, unhindered finish to every room."
In all, Powermatic® controlled, concealed door closers were fitted to 43 rooms in the new extension plus lobby and corridor fire doors.