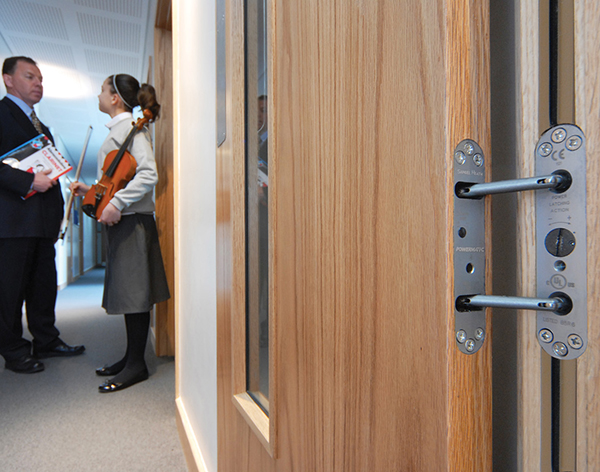 Designed by Victoria Manser with the Manser Practice, the Rudland music school makes an outstanding addition to the Godolphin and Latymer independent girls' school in West London.
Finished to exceptionally high standards, the music school provides a variety of tuition and practice rooms, as well as a recording studio, housed in a two-storey structure adjoining a deconsecrated church, which has been transformed into the school's drama theatre.
A glazed, full-height atrium connects the two buildings, introducing a light, airy note that is continued throughout the music school, with plain washed walls and the extensive use of steel, glass and contemporary timber doors.
Essential to maintaining the feeling of openness and informality has been the selection of hardware and, in particular, the selection of door closers for the fire doors that divide the corridor which runs along the entire length of the school's upper floor.
Gary Martin, premises manager at Godolphin and Latymer explains, "Hold-open devices are used to keep the fire doors open during normal use. This not only assists with traffic flow, but also enhances the feeling of openness in the corridor.
"We did not wish to spoil this atmosphere by installing surface mounted door closers, whose control arms and boxes would have protruded into the corridor or prevented the fire doors from opening flush to the walls.
"Having used Powermatic® elsewhere in the school, I was aware of its fire performance credentials and reliability. I also knew that, being concealed between the door and jamb, it would not interfere with the appearance that we wanted to achieve in the music school."
Powermatic® is proving increasingly popular throughout the education sector as professionals responsible for the management and development of buildings are becoming aware of the many benefits that the door closer's technical performance and concealment delivers.
On a technical level the door closer offers fire performance, durability and the capability to enable doors to comply with document M of the Building Regulations, together with maintenance free service and a manufacturer's 10-year guarantee.
Equally attractive are the health and safety benefits that derive from the fact that Powermatic® is totally concealed when the door is closed. These include reduced opportunity for vandalism, which can render a door useless, and its suitability for anti-ligature applications.