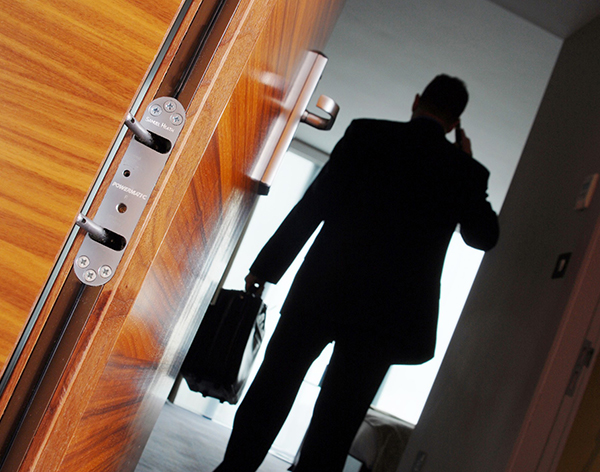 The Powermatic door closer's performance and concealment proved to be the perfect combination for the Hilton Manchester Deansgate, a landmark hotel with spectacular views over the city.
Situated within the lower 23 floors of the iconic, 50-storey Beetham Tower, the hotel's specifications boast impressive modern facilities and the latest in chic interiors – right down to the design of the door closers!
Over 400 Powermatic concealed, controlled door closers have been installed at the hotel. The architects, Ian Simpson of Manchester, asked specialist architectural ironmongers, Laidlaw Solutions Limited to provide a door closer that would meet all the fire performance requirements yet achieve a clean, unhindered appearance to complement the design of the hotel.
Colin Whittaker, key account manager at Laidlaw Solutions, explains why his company had no hesitation in recommending Powermatic, "For this prestigious project, the architect did not want to use surface mounted door closers and Powermatic offered the ideal solution. It satisfies all of the necessary fire and access performance criteria and has the added benefit of being invisible when the door is closed."
Commenting on the specification, Dave Green, project architect for Ian Simpson, states, "Laidlaw Solutions's recommendation for the door closers was spot-on. Freedom to create the desired interior is important to any designer and the Powermatic door closer allowed us to retain the intended appearance of the door, and interiors, without worrying about extraneous mechanical devices "
Leaderflush of Nottingham supplied the doors pre-morticed, ready to accept the door closers.
Samuel Heath's concealed door closers have long been admired for the fact that they are invisible when the door is closed. In addition to enhanced aesthetics, there are some very real, practical advantages to this concealment; Powermatic offers excellent fire and accessibility performance, which include comprehensive fire door accreditations and the ability to ensure that doors meet the requirements of Approved Document M.
The closer is maintenance free and, being jamb-mounted, it is also at reduced risk of vandalism and has no exposed surfaces, which can reduce cleaning times, making it ideal for a wide variety of situations in hotel, leisure, commercial, education and healthcare projects.