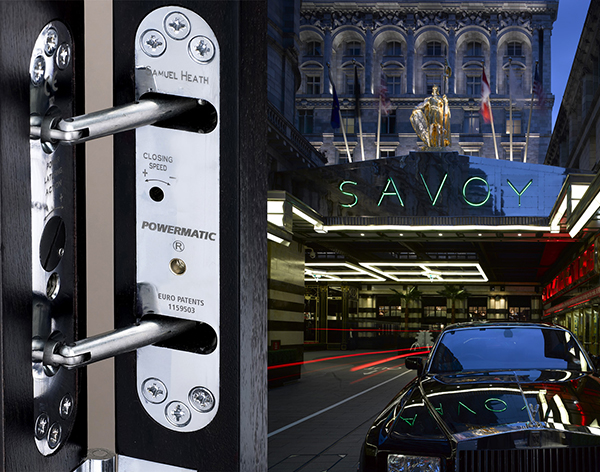 The ability to assure the sound insulation properties of guestroom doors was one of the key factors which resulted in Powermatic® concealed door closers being specified for the £220 million refurbishment of The Savoy, London, one of the world's most iconic hotels.
The capital city's largest ever hotel restoration project has involved the rebuilding or redesign of all guestrooms and public areas, the introduction of an entirely new services infrastructure and the structural stabilisation of the hotel's listed riverfront façade.
World-renowned hotel architects, ReardonSmith led the design team for this prestigious project, developing and implementing interior design schemes created by Pierre-Yves Rochon, which heighten the level of glamour and sense of luxury for which The Savoy is famed across the globe.
An integral part of the project has been the refurbishment, and in some cases rebuilding, of the hotel's guestrooms, and it is here that the Powermatic® door closer has been used to great effect.
The authentic Art Deco guestrooms have been faithfully restored and others have been totally refurbished in a style highly sympathetic to the spirit of the original. Where total rebuilding was required, wherever possible, the guestroom's original fittings and features were removed, cleaned and reinstated. The refurbishment also included the creation of a new Royal Suite, spanning almost the entire length of the hotel at fifth floor level.
Introducing modern convenience and satisfying the varied performance criteria that apply in today's building industry, whilst retaining the appearance and atmosphere that embody the spirit of The Savoy was paramount in all areas of the restoration. Guestrooms in particular demanded special attention to ensure that, where possible, the exquisite interiors, and ultimately the guests' comfort, were not spoiled by the appearance of unnecessary mechanical devices.
The natural choice for door closing devices, therefore, would be concealed door closers. Having considered the options carefully, and undertaken their own sound insulation tests on complete door assemblies, ReardonSmith specified Powermatic® controlled, concealed door closers for all guestrooms, including the Royal Suite.
In all, more than 400 Powermatic® door closers, together with a variety of bell pushes and valet stands from Samuel Heath's bathroom and hardware collections, were supplied to the project by architectural ironmongers Franchi plc.
Franchi's project manager, David Ward, comments, "We needed a reliable door closer that met all the necessary performance standards for fire and accessibility, but one that also assured the integrity of the door for sound insulation and, of course, did not interfere with the high quality aesthetics of the hotel's interiors. Powermatic® ticked all the boxes. It is CE marked, which underlines its performance credentials, and its small body meant that less of the door had to be morticed to accommodate the closer, contributing to the desired 30 decibel sound transmission requirement for the guestroom doors."